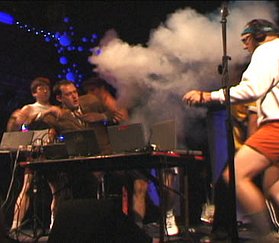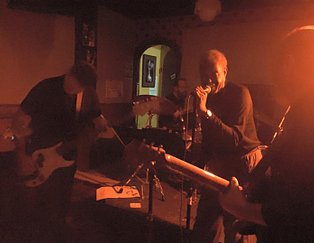 Peter Conheim is the co-founder of two San Francisco Bay Area performing groups:
MONO PAUSE (aka NEUNG PHAK) – Formed in 1992, this shapeshifting ensemble has combined countless genres and crossed continents in search of inspiration to concoct a blend of "situationist" performance, pop music and improvisation. Two full-length albums have been released: 1999's Peeping Through the Listen Hole (Electro Motive Records), 2018's Don't Low Up to the Amped Buenaes split LP with Germany's Metabolismus (Feeding Tube Records), and a pair of LPs on the Abduction label as their alter-ego Southeast Asian spin-off band, Neung Phak. http://www.monopause.net
WET GATE: THE ALL-PROJECTIONIST ENSEMBLE – Wet Gate is a trio which performs its sets on stage using nothing but 16mm film projectors and hand-made film loops, playing sonic and visual collage pieces with no other added ingredients. Formed by Peter Conheim with Steven Dye and the late Owen O'Toole in 1995, Wet Gate has performed at the Rotterdam Film Festival, Australia's Liquid Architecture and Revelation Underground Film Festivals, Chicago Underground Film Festival and many other locations. The group continues since the death of Owen O'Toole with fellow 16mm consipirator, Maximillian Godino, who has projected with the group intermittently throughout its existence. http://www.wetgate.net
Peter Conheim is also a key member of the long-running "culture jamming" ensemble, Negativland, and toured and recorded with them from 1996 to 2014. Most widely known for parodying (and being sued by) the Irish band U2, the group has released over 20 albums on its own Seeland Records label. http://www.negativland.com
One of Peter's longest collaborations has been with singer Malcolm Mooney, co-founder of the legendary band CAN, as bass player of Malcolm Mooney and the Tenth Planet, with whom two albums have been released: Hysterica (P-Vine, 2006) and InCANtations (Milvia Son, 2011). He played bass in Mooney's East Coast version of the band – the Eleventh Planet, which includes Steve Shelley (ex-Sonic Youth), Ava Mendoza, Devin Brahja Waldman and Alexis Marcelo – for an upcoming studio LP.
In 2015, Peter joined The Mutants, one of the San Francisco Bay Area's first punk-era bands (originally formed in 1977, still playing with the same core lineup), replacing the retired Paul Fleming (1953-2019) on bass.
His solo project, The Jet Black Hair People, released a collaborative album with People Like Us and Wobbly in 1998, a handful of collaboration tracks over the decades, and occasionally appears behind a table-full of handmade noise oscillators, known as Boopers, to make noises in public.